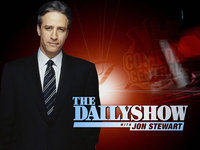 This Tuesday could be a very exciting day for politics. Sure, the Democratic party could finally decide on a candidate after the next set of primaries but I've already said I won't be talking about that much any more. The real news is that the fake news, The Daily Show with Jon Stewart, will be interviewing Ralph Nader. This could be interesting. ...
Nader on the Daily Show could be interesting because they could have a good laugh about the whole "spoiler" issue. I'm sure Ralph is tired of the serious answer he always has to give. Of course, he'll probably only have about 6 minutes. And since this may be one of the most mainstream interviews he gets, at least for younger voters, he will be making his points as well. He's very well educated and a good speaker, I'm not worried. Hopefully he'll get to show off more of his humorous side than we usually get to see.
It should be much more informative than the guest on The Daily Show tonight( but I'll watch it anyway ). First SNL and now the Daily Show, she is really working for those youth votes.
Other than the forthcoming Daily Show appearance there is a lot being said about the Nader campaign. There is getting to be even more since he announced his running mate Matt Gonzales, who so far seems great to me. I especially like his response to the spoiler issue. For more of the news related to Nader/Gonzales check out the votenader.org news page.